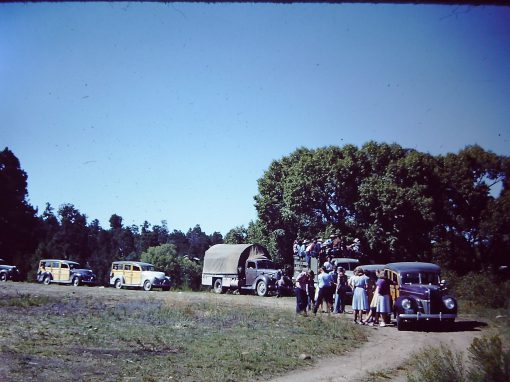 The first trek for girls, called the Turquoise Trail Expedition, rolled out in 1942. Note the "Commissary Truck" in the middle of the caravan.
Hillis Howie led his Boy Scout troop on the first PrairieTrek from Indianapolis to the American Southwest in 1926. After exploratory trips to the Pacific Northwest and England, he settled on New Mexico, bought land for a base camp, and set up a non-profit foundation. It was named the Cottonwood Gulch Foundation, after the spring-fed cottonwoods at the base camp. I conjecture that the expedition format of the original treks was inspired by the expeditions Roy Chapman Andrews led to central Asia for the American Museum of Natural History at about the same time, and indeed Howie's early groups did collect all manner of artifacts for the Children's Museum in Indianapolis. Collecting is now known to be best left to professionals, but trek groups still mount expeditions that explore landscapes -- geophysical, ecological, social, and personal. Over the last 90+ years, thousands of young people from the U.S. and around the world have been drawn to this program and its special blend of fun and learning. They keep coming back, and many remain devoted alumni for life.
Flocks and Rocks Trek, August 28 - September 5, 2021
Cottonwood Gulch has always focused on young people, but there is no reason that adults wouldn't benefit from a few days in the out-of-doors, sleeping in a tent or under the stars, and learning about the world around them in the time-honored Gulch Way. To address this opportunity, Executive Director Kris Salisbury invited John Bloch and me to inaugurate the Flocks and Rocks Trek in 2017. We did it; it was a 9-day natural history trek for adults, with a focus on geology and ornithology. At John's urging, we followed the Rio Grande Rift from Albuquerque to the San Luis Valley, then the Jemez Lineament out to El Malpais, near the Base Camp at Cottonwood Gulch. We saw every kind of igneous rock you can imagine, and many birds, including a pair of Peregrine Falcons on a cliff in Bandelier National Monument, and an American Dipper nest by a waterfall in Colorado. Our chef, Paul Meeker, observed that we had two university-level field schools going at once. John and I did share a lot, and the participants soaked it up. They were all highly-educated, inquisitive folk who just happened to be experts in fields other than flocks and rocks. A diary of our trip is here, and a spreadsheet of our birding data may be downloaded here. In that spreadsheet, go to the Table of All Sightings to see how many birds of each species were reported on each Ebird checklist. The total was 85 species. Or go to the Downloads Page for data pertinent to all my Cottonwood Gulch treks.
<!figure tag did not work in my browser>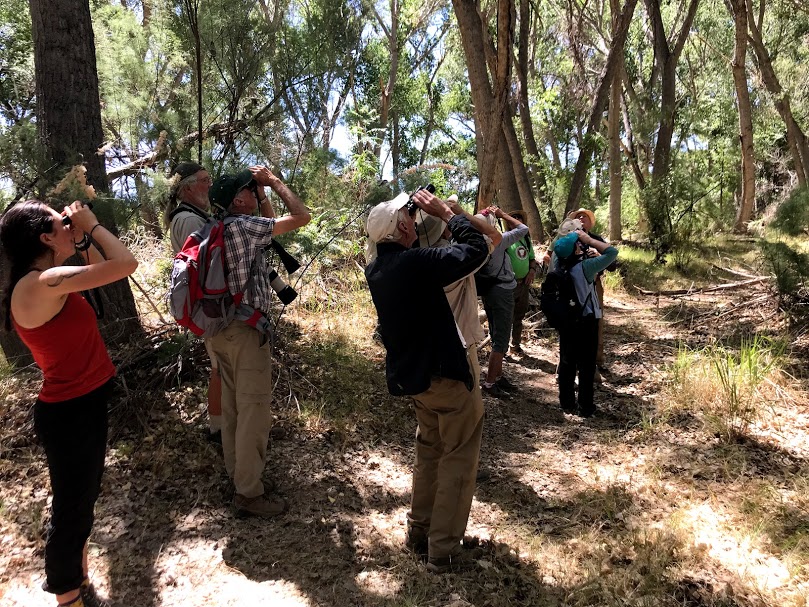 Looking up for Rose-throated Becards along the De Anza Trail.
In 2018 the focus was more ecological, featuring the geographically unusual birds of the borderlands south of I-10 in southeastern Arizona. That area is rampant with geology as well, and it is very different from the Rio Grande Rift. All five participants from 2017 returned, and we added 10 more. From Organ Pipe Cactus National Monument in the west to the Chiricahua Mountains near the New Mexico border, and from the Sonoran Desert to the high pines of Rustler Park, we saw 127 species of birds. Geology varied from a Pleistocene impact horizon to PreCambrian granite and finished with the awesome formations of Kartchner Caverns. My plan of action for birding in 2018 is here, and a report of the outcome is here, with the raw data here. The success of that trip led us to spin off a more intensive birding expedition to that area, Bird Trek Arizona. The focus returned to geology in 2019 with a trip to Southwestern Utah. Everywhere we went -- Valley of Fire State Park in Nevada, Snow Canyon State Park in Utah, and Zion, Bryce, and Capitol Reef National Parks -- featured stunning and picturesque cliffs and canyon. The birding was excellent along the Virgin River and at Valley of Fire, and we even saw two massive Bighorn rams trot across the road right in front of our idling vehicles. In 2020 we were going to take a truly unique trip, around the "Leopold Loop." Aldo Leopold, the influential conservationist and environmental philosopher, spent the early years of his career with the Forest Service in the Southwest. We planned to visit places he knew well and wrote about movingly -- the Blue River, Escudilla Mountain, the White Mountains -- in an effort to honor his pioneering impact on environmental awareness in America. Jack Oviatt, Ph.D., former chair of the Geology Department at Kansas State University, signed on as our geologist, with John Bloch moving into the emeritus ranks. Jack was wondering if Escudilla was glaciated. I was wondering if we could find Canada Jays and Pine Grosbeaks in the White Mountains. Of course, we didn't get a chance to answer those questions in 2020. But Flocks and Rocks is back on the calendar for 2021, the centenary of the Gila Wilderness, which Leopold proposed while working in Albuquerque in 1921. This year our trek is scheduled for late summer, not early summer. In the Southwest, that is the time of green grass, rainbows, and skies that are bluer than blue. Our focus will be the same as planned for 2020, and, depending upon the availability of camp sites, so will the itinerary. I will update the details on this page as I know them.
This adventure will begin at the Albuquerque NM Airport and venture southwest into the White Mountains of Arizona, Aldo Leopold's first duty station with the U.S. Forest Service, and the inspiration for some of the most poignant images in his classic A Sand County Almanac. The White Mountains are volcanic in origin, as befits their location along the Jemez lineament, but to get to them we must journey down the Rio Grande rift for 70 miles on Day 1. Both the rift and the lineament are familiar to some of us from our 2017 trek.

These very disparate geologic features produce plenty of habitat diversity, which gives us an immense variety of plants and animals to meet. We spend our first night on friends' land in the Rio Grande bosque, where we have our only chance to meet such desert birds as Verdin and Phainopepla. We'll take an early morning visit to nearby Bosque del Apache National Wildlife Refuge, where we may see waterfowl and migrating shorebirds, as well as roadrunners and coyotes. In the afternoon we will head for the White Mountains, stopping briefly for a close-up look at the otherworldly Very Large Array.

From a base camp at 8,000 feet in Springerville, we will explore ridges and canyons to the south. The Blue River valley is a northern extension of the canyon ecosystem of southeastern Arizona. The whole area is an Arizona Important Bird Area. We'll look for Mexican Jays and Common Black Hawks there, and drive down the canyon as far as we can get, looking for coatis and imagining the wolf restoration that would have made Leopold glad, but was vigorously resisted by local ranchers. Then we'll climb out of the Blue drainage to to the spruce-fir forest at Hannagan Meadow Campground. If the canyon looked like southeastern Arizona, this ridge could be in Colorado. From here one can look west onto the fire-ravaged slopes of the Black River drainage. The Black flows west into the Salt; the Blue south into the Gila. Both rivers have given their water to Arizona agriculture and municipal water systems by the time they meet south of Phoenix. Leopold would say this system is out of whack. We'll take a closer look on our drive back to camp.

We next pitch our tents in the center of Leopold's Arizona world, Escudilla Mountain. We'll note the charred remains of the spruce-fir forest on the mountain slopes and muse on why fire has taken a heavier toll on spruce-fir forest than ponderosa pine forest in this area. We'll camp by the luxurious grassland on the "loop" road 56, about 1000 ft below and three miles south of the summit of Escudilla Mountain. The springs there will fuel a chorus of frogs, and perhaps rails, as we get used to the brightest starscape we have ever seen. We'll read about the grizzly who once roamed this mountain and how it inspired Leopold's classic essay "Thinking Like a Mountain," a precursor to his Land Ethic. Those unbothered by the thin air at 9,700 feet can ascend the three miles to the fire look-out and share the panoramic views. Excellent views can be had only one mile up this trail.

On the way to a new campsite in Springerville, we head up into the White Mountains for a look at the vast subalpine grasslands that inspired Leopold's essay "On Top." Perhaps we'll find Frijole Cienega or "the boneyard," places he visited while working for the Forest Service in Springerville. The next day we will have the option of a strenuous hike up the north side of Mt. Baldy. The vistas and late sumer wildflowers will be beautiful even if we only go a mile. This is our best chance to see the Canada Jays and Pine Grosbeaks, which give this isolated highland additional boreal flavor.

After multiple days in Arizona, we head north to the Zuni Mountains, where we will encounter the massive sedimentary landscapes of the Colorado Plateau. Nightfall will find us at Cottonwood Gulch, which offers us cabins with bunks and the possibility of owl music right outside. We'll spend a day exploring the nearby mountains, which feature a Precambrian granite core, basalt-capped mesas, and massive sandstone cliffs. The birds are equally diverse, and typical of the Rocky Mountains, with kingbirds at the base and nutcrackers in the heights. We'll leave as early the next morning as we need to for the two-hour drive to the airport, noting the intersection of geological provinces as we head toward the city where Leopold proposed the Gila Wilderness 99 years ago.

Looking from the edge of the Gila Wilderness toward the White Mountains. The smoke is from a controlled burn near Mt. Baldy. Escudilla Mountain is the high point at far right on the horizon.

The summit of Escudilla Mountain, as seen from the Terry Loop, where we will camp, within earshot of Profanity Tank, at the interface of the luxuriant subalpine grasslands and the spruce-fir forest.

One of our stops will be at Hannagan Meadows Campground, where perhaps we will be visited by "camp robbers" aka Canada Jays, members of an isolated population on an evolutionary island.

The Blue River IBA is home to species typical of the canyons of southeastern Arizona.
The Flocks and Rocks Trek is a general interest nature tour, with nominal focus on birds and geology. All the participants are interested in birds and everything else, but don't necessarily keep life lists. For those who do, I take extra steps, such as early morning bird excursions, to make sure they see all the species that are common in the varied habitats we visit. And we plan the itineraries to visit as many habitats as possible.
The 2021 Flocks and Rocks Trek, which runs from August 28 through September 5, is a Covid-forced rescheduling of the 2020 trek, planned for early June. I would never have scheduled a birding tour for late August, because I want to hear the birds sing, but this necessity presents us with an opportunity – fall migration will be in full swing, with both shorebirds and warblers presenting many possibilities.
As advertised, the 2021 trek will visit a variety of habitats. We start in the desert in the Rio Grande Valley, we spend most of the week in the White Mountains of Arizona, in observance of the Aldo Leopold theme, and we end up in the Zuni Mountains, where the organization's base camp is a noted migrant trap and a nearby reservoir offers the possibility of Baird's Sandpipers and other better-known shorebirds.
Our one day in the desert should produce Vermilion Flycatcher, Verdin, Phainopepla, Black- throated Sparrow, and Curve-billed Thrasher (curvirostre group). Crissal Thrashers are also present, but may be hard to see at this time of year. We will visit Bosque del Apache NWR and hope for some luck with waterfowl and shorebirds, especially avocets and stilts. Neotropic Cormorants and White-faced Ibis are likely.
As we drive westward across the Plains of San Agustin you will be justified in calling the ravens Chihuahuan. They are emblematic of this high altitude grassland. We will have to save the local Bendire's Thrashers for another time, when they are more conspicuous.
Speaking of grassland, we will camp for two nights in the meadows of Alpine, Arizona, elevation 8,000 feet. Mountain Bluebirds, Vesper Sparrows, and Western Meadowlarks are the mainstays of the flat valley, while nearby Luna Lake is the home of nesting Ruddy Ducks and Eared Grebes, both in their showy summer plumage. Just over a little rise from Luna Lake is the valley of the Blue River , which we will follow southward as it cuts lower and lower into the earth, creating conditions conducive to species usually associated with the canyons of southernmost Arizona. On this excursion we expect to find Common Black Hawk, Brown- crested and Dusky-capped Flycatchers, Mexican Jay, Bridled Titmouse, and Painted Redstart. We hope to get far enough south to discover a few more of the canyon specialties. Then we'll climb out of the Blue River valley all the way to conifer forest at Hannagan Meadow , looking for Audubon's, Olive, and Red-faced Warblers as we go. The Audubon's Warblers of southern Arizona have added a new and unexpected chapter to the taxonomic saga of the Yellow-rumped Warbler complex.
After Alpine, we ascend 1600 feet to camp at the edge of another grassland, near the top of Escudilla Mountain. This place is full of springs, and – I hope – of rails. Who knows, maybe even a nesting pair of Northern Harriers or Short-eared Owls. It's seldom visited and could hold ornithological surprises. This mountain once hosted an extensive spruce-fir forest, but most of it was destroyed in a recent fire. Nevertheless, remnants remain, and we will camp beside one of these, which should grant us ample opportunity to hear and see the snag-loving Olive-sided Flycatcher. Among the expected birds of high elevation forests will be the local version of the Dark-eyed Junco, which is the red-backed version of the gray-headed version of that super- species. A good thing to see for listers, for the junco may be split into many species some day.
We next move down to 7000 feet at Springerville for two night along the Little Colorado River , where migrant warblers should be infesting the streamside willows. Perhaps here, or perhaps earlier on our trip, we may be lucky enough to see the strikingly-patterned Montezuma Quail, which is surprisingly rather common this far north and this high in elevation. On our in- between day in Springerville, we will take an excursion to the highest mountain in the area, Mt. Baldy. On the way, we'll pass through Greer , whose vast willow thickets along the upper reaches of the Little Colorado have been the home for an enigmatic collection of species – Gray Catbird, American Redstart, Veery – typically thought of as "eastern." Then we'll consider undertaking the 2000-foot ascent of Mt. Baldy, because this will give us the best chance of seeing the Canada Jay and the Pine Grosbeak – the most out-of-place of all the out-of-place species in this biogeographically fascinating area. They are both far south of their main populations in Colorado, but the conditions are right for them on this "sky island."
Finally, we'll spend two nights at Cottonwood Gulch (7500'), the base camp of the organization of the same name that has been mounting educational expeditions in the Southwest for close to a century. Common Rocky Mountain birds abound there. At least four species of owls and four of hawks have nested there. Flammulated Owls were common there in the 1980s. And the willows should be crawling with northern migrants, such as Northern Waterthrush and Wilson's Warbler, when we visit. Nearby Bluewater Lake has hosted many out-of-range waterbirds, and its shoreline is good for migrating shorebirds in late summer. Baird's Sandpiper is a regular among these visitors.
Our in-between day at Cottonwood Gulch will be spent in the Zuni Mountains, where we will have one last chance at any high-elevation species we might have missed. The burn on Mt. Sedgwick is newer than those we will encounter in Arizona, and it hosted American Three-toed Woodpeckers just two years ago. Maybe they are still around. Clark's Nutcrackers are usually seen in the high country, and Spotted Owls nest there. Canyon Wrens bounce their songs off the walls of a canyon we will go through, and Pinyon Jays course through the woodlands that surround the Gulch.
Somewhere along our 600-mile trek a roadrunner will run across the road in front of us. We'll probably encounter a Golden Eagle somewhere with similar lack of planning. Otherwise, a lot of planning will have gone into our successful finding of the emblematic and the ordinary birds of this region along the seldom-traveled border of New Mexico and Arizona. And that will result in a bird list far bigger and better than anyone would expect from a general interest nature tour.
---
Bird Trek Arizona, May, 2022 <! ---------------------------------------------------------------->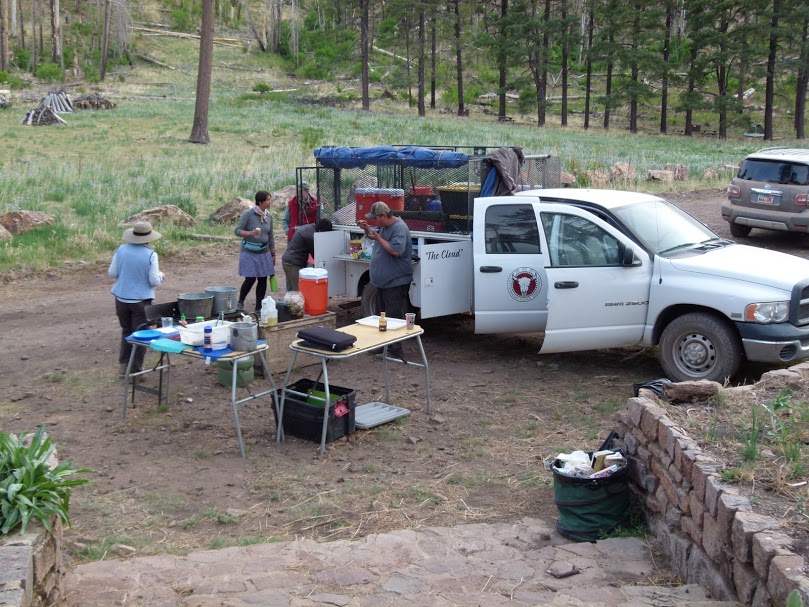 The Latest in Commissary Trucks
Cottonwood Gulch Bird Treks fuse the logistics of Cottonwood Gulch treks with the content focus of conventional birding tours. Unlike birding tours, which use hotels and restaurants, we take everything with us, including a cook and kitchen. Unlike most other Cottonwood Gulch treks, we do a deep dive on one subject, birds, rather than a broad sample of natural and cultural history. The advantages of this fusion for birders are two-fold: (1) A Bird Trek is about $1000 cheaper than a birding tour, and (2), because we camp out, we get a lot more exposure to the birds, especially the night birds. Many of our campsites are in remote places where indoor lodging is not an option. Early rising for the dawn chorus is also easier this way. Indeed, one can listen to the dawn chorus without getting out of bed. But, we still try to maximize creature comforts. If possible we will use campgrounds with showers. Our brand new cots that sit six inches off the ground fit nicely into the tents. Both are part of the package, and you can even rent a sleeping bag rather than bring your own.
In 2018 Flocks and Rocks went to southeastern Arizona, and focused on birds. We saw 127 species of birds in a week, while learning a lot of geology, yet still having time to sit around and chat. That's when I got the idea of a spin-off, an annual birding trek to this bird-rich area that would blend my love of ornithology and ecology with my appetite for finding little-known species in their specialized habitats. We might even work a little bio-acoustics into the mix. The eventual goal is to offer two back-to-back Bird Treks. Bird Trek Arizona 1.0 will focus on the species that are restricted to that area but are easy enough to find with a guide book. Of course it does increase efficiency to have a leader who has seen them before and knows some of their vocalizations. Bird Trek Arizona 2.0 will focus on species that are very rare, either because their habitat is very rare, such as Buff-collared Nightjar, or because they are just beginning to establish themselves in the United States, such as Tufted Flycatcher.
For this first year (2022), we will begin with a turbo-charged BTA 1.0, which will take you to see and hear Elegant Trogons, Flammulated Owls (an old specialty of mine), Mexican Chickadees, half a dozen species of hummingbirds, Greater Pewees, Tropical Kingbirds, Gray Hawks, and a slew of other species that one must come to the Deep Southwest to find. We will also try to find a few of the specialties that are the bailiwick of BTA 2.0. Along the way I will present chalk-talks on the ecology of the region and the nitty-gritty of range expansion. If you ask, I will explain why bird names change so often, how the revolution in molecular biology has revolutionized our understanding of the genealogy of birds, why female Black-chinned and Ruby-throated Hummingbirds are identical but the males aren't, and a few dozen other stories from my years of teaching college-level ornithology.
Bird Trek Arizona was set to debut in May of 2020, but of course Covid-19 nixed those plans. May of 2022 is our new target. The trek will start and end at the Tucson Airport, but the exact dates have not yet been set. Check this page from time to time for an update, and bookmark the Bird Trek page on the Cottonwood Gulch website. You can also get a lot more information about the trek on that page. If you have a question for me, or want to be on my mailing list, send your email to birdtrek at archmccallum.com.

This trek explores the mountain islands and desert seas of southeastern Arizona at a time of maximal bird activity, just before the summer heat sets in. Migration will still be on, but breeding birds will be on territory, making plenty of noise. After meeting at the Tucson airport we will set up camp in the saguaros of Tucson Mountain Park, where we will meet the common birds of the Sonoran Desert while enjoying afternoon libations and hors d'oeuvres. The next morning we will comb the desert for Rufous-winged Sparrows and Elf Owl nests while checking off the rest of the desert specialties. We'll also hop into the vehicles, if necessary, for a quick trip to a known Harris's Hawk territory. We will lunch at the Arizona-Sonora Desert Museum, whose outstanding exhibits will explain desert ecology to us. They also have a number of live animal exhibits, including a hummingbird enclosure in which Costa's Hummingbirds will be nesting. Then we'll head to a new campsite in the high pines of Mt. Lemmon, where we'll be surrounded by Mountain Chickadees, a Rocky Mountain Species, and Yellow-eyed Junco, a Sierra Madre species, among many others. After dark, perhaps Flammulated Owls will hoot ventriloquially from overhead. If so, we'll be glad we are camping out.

On day 3. after catching the dawn chorus of Buff-breasted Flycatchers and spending a leisurely morning looking for Common Black Hawks (our only chance) we will descend through the life zones to the Saguaro forest east of Tucson, then southward through the desert grassland south of I-10 and its Botteri's Sparrows. We'll stop for a listen, and then drive on to Patagonia, for quick stops at the Paton Hummingbird Center and the Roadside Rest, time permitting. Soon we'll be settling into the lap of luxury at Patagonia Lake State Park, with a lake and hot showers at our disposal. We'll see if the Rufous-winged Sparrow is still defending the bath-house, and comb the far lakeshore for White-faced Ibis, Neotropic Cormorant, and Mexican Duck, along with better known waterbirds. We will also hope for a return of the pair of rare Black-capped Gnatcatchers that nested successfully in 2019.

Day 4 will be our banner day for Group 1, ultra-rare invading species, with Violet-crowned Hummingbird, Thick-billed Kingbird, and Tropical Kingbird likely, and Rose-throated Becard and Black-capped Gnatcatcher requiring only a little luck, as single pairs of these two species are known to be in the area. Naturally, such an exciting day will require an early start. We'll go first to de Anza Trail in Tumacacori for the kingbirds and becard, then back to camp for lunch, then to Patagonia for the hummer and perhaps an early Varied Bunting. If there's any time left after we return to camp we may visit the lakeshore again, but most will probably want to sit around the circle and compare notes with a nice beverage in hand.

Day 5 will begin with a concerted effort to find the local Black-capped Gnatcatchers, who live in the desert scrub maybe a quarter mile from our campsites (which are at the edge of the campground where the birding trail begins). Then we'll break camp as quickly as possible to get to the Roadside Rest before midday heat sets in. After a leisurely morning there and in Patagonia, we'll head over to Sierra Vista for groceries and then spend the remainder of the afternoon at Ash Canyon, hoping for Lucifer Hummingbird, but sure to see many Group 2 species for the first time. Then we'll ascend to the cool pines and Buff-breasted Flycatchers at Reef Townsite, hoping a Tufted Flycatcher will be in residence. Owls and nightjars frequent this campground, and the view of the lights 3,000 feet below is spectacular. A quick turn-around the following morning (we may skip Reef, depending upon the flycatcher situation) will take us back down to the base of the Huachucas and a half-mile hike to the Rufous-capped Warbler nesting site. Then we drive and drive and drive, through Bisbee and Douglas to Portal, AZ, gateway to the "Yosemite of the Southwest," Cave Creek Canyon.

We'll spend two leisurely nights in the canyon, with forays into the desert for thrashers and sparrows, up the canyon for trogons and hummingbirds, and behind Silver Peak for titmice and more sparrows. On the penultimate morning of our trip, we'll climb to 8,000 feet at Rustler Park, where we'll focus on Mexican Chickadees, but see many other Madrean Forest birds as well. After lunch we'll descend the west side of the Chiricahuas and head for another luxurious state park, Kartchner Caverns. The birding is good there, too, if we have time. For sure we will clean up and have a final feast and get a good night's sleep (like all the others) before heading west for the airport early Sunday morning.

We will visit four major habitat-types: (1) Desert, home of the Elf Owl and Gilded Flicker.

We will visit four major habitat-types: (2) Montane Conifer Forest, home of the Mexican Chickadee and Red-faced Warbler.

We will visit four major habitat-types: (3) Canyon Woodland, home of the Elegant Trogon and Arizona Woodpecker.

We will visit four major habitat-types: 4) Riparian Gallery Forest, home of the Rose-throated Becard and Gray Hawk.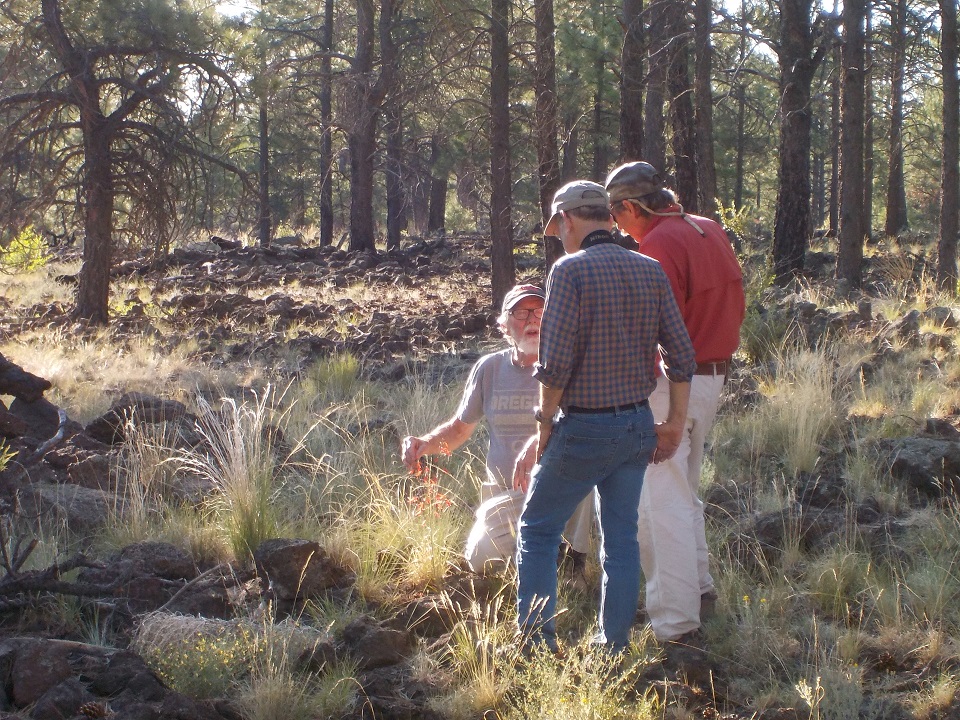 On the first Flocks and Rocks Trek in 2017, Arch discusses the evolution of red, tubular flowers, which serve to attract hummingbird pollinators, with John Mayer and John Bloch.
My innate interest in birds received early encouragement from my parents and my uncle, who were all accomplished naturalists. Growing up in Dillon, South Carolina, I spent weekends in the woods at the family farm and looked forward eagerly to occasional Sunday afternoon trips to "the beach," two weeks every summer in the North Carolina mountains, and Carolina Bird Club meetings, where I received abundant encouragement from adult birders and ornithologists, especially the Chamberlain brothers of Charleston, S.C. After college, a stint in the navy, and a few misadventures, I found myself working as the resident naturalist at the base camp of the Cottonwood Gulch Foundation, in the Zuni Mountains of New Mexico. My bird studies there, over a 14-year period, led to a Ph.D. at the University of New Mexico, Birds of North America accounts of the Flammulated Owl and the Mountain Chickadee, and other publications.
My interest in southeastern Arizona was crystallized by winter residency in the Chiricahuas, 1977-78, and 1978-79, where I was among many who saw the first Eared Trogon (now Eared Quetzal) documented in the U.S. I returned to the Chiricahuas for a sabbatical in 1999-2000.
After returning to South Carolina in 1988 and taking a position in the College of Charleston Biology Department (1990), I began studying the acoustics and syntax of bird sounds,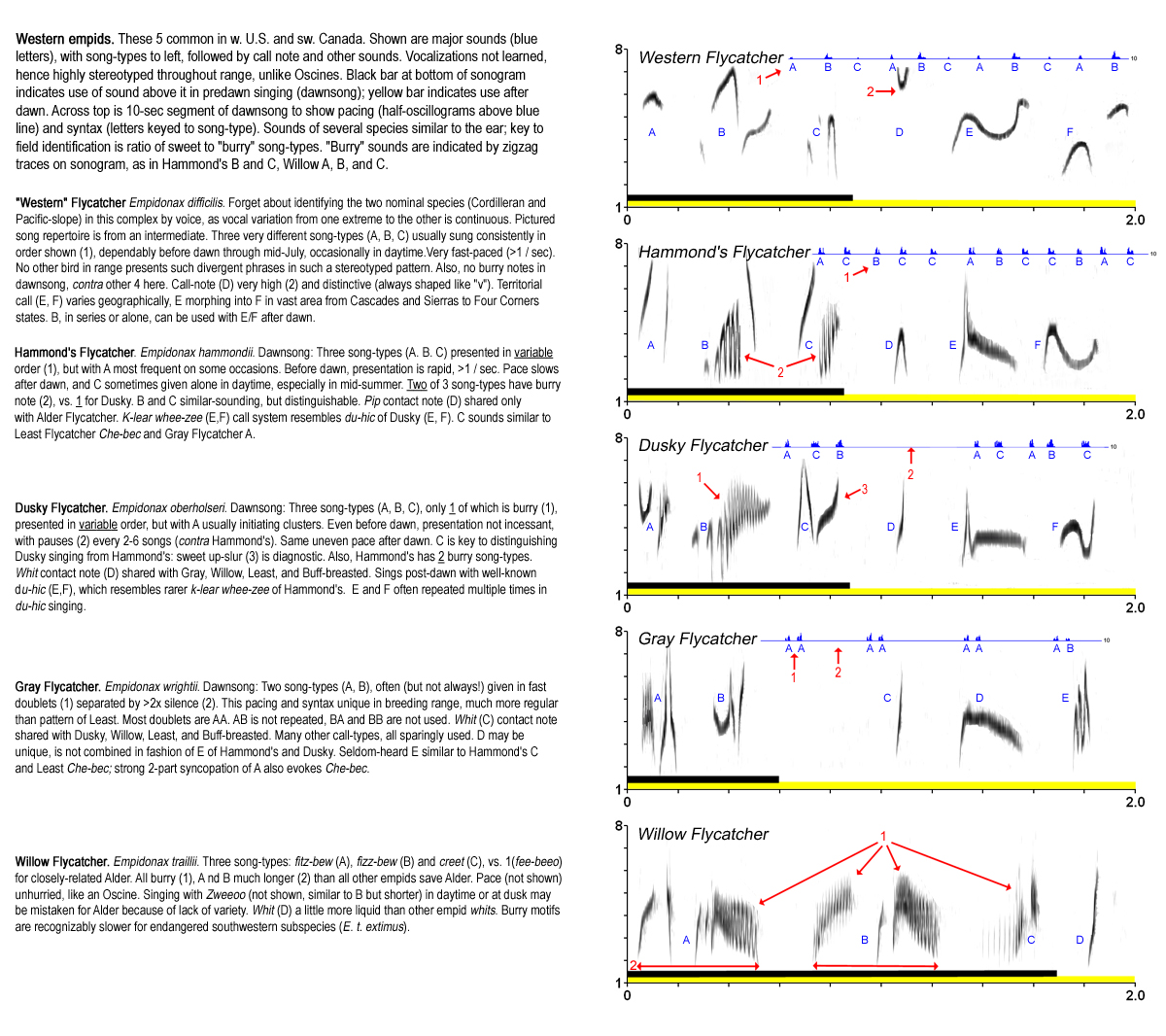 Field Guide page from article in Birding.

with a focus on the evolution of vocal repertoires in the Paridae and Tyrannidae. This included research expeditions to China, Japan, Mexico, and Central America. In the process I have become a reluctant authority on vocal intermediacy in the hybrid zone between Cordilleran and Western Flycatchers, but I'm enthusiastic about teaching birders to use sonograms to increase their ear-birding skill. When I resumed teaching ornithology at CofC in 2013, following a 12-year stint in Oregon, I began using Ebird for student checklists. I have become an enthusiastic Ebird contributor and use Ebird data to optimize the itineraries of the birding "treks" I lead. Ebird also has a very accessible portal for posting recordings. See below for an example.
I have been an ardent conservationist all my life. I was an officer in the Gallup Area (NM) Audubon Society during its brief existence in the late 1970s and early 1980s. During that time I participated in the successful effort to protect the Bisti Badlands from coal development, and to reform corrupt federal coal leasing practices. In 1983 I seriously considered becoming a regional representative for the National Audubon Society before deciding instead to return to graduate school. I was a board member of the Charleston (SC) Natural History Society in the 1990s. I launched the Conservation Biology course at the College of Charleston in 1996 and resumed teaching it when I returned to Charleston in 2012. Teaching that course, along with reading Harari, has convinced me that the only hope for Planet Earth, as we have known it and millions of us love it, is for humanity to eschew both humanism and theism and adopt Leopold's Land Ethic.
<! ---------------------------------------------------------------->